Last Updated on November 17, 2022
Riu Palace Cabo San Lucas Hotel: Get Rid of Daily Stress and Enjoy a Luxurious Vacation
Cabo San Lucas attracts a large number of tourists from all over the world. Many of them select this wonderful place for its subtropical climate of warm days and cool nights. Without leaving aside the landscapes that will leave you breathless every time you observe them. These views worthy of the best documentaries related to explorations of natural sites have a secret that visitors also appreciate – the marine species and birds of Los Cabos as well as all the water sports that can be practiced in its turquoise waters.
And others select Los Cabos San Lucas because they find in this place, in addition to the bounties of nature, the luxurious and comfortable facilities that provide a place like the Riu Palace Cabo San Lucas Hotel. This magnificent luxury hotel was awarded the GOLD certification for the Travelife Sustainability System, another reason to pick this hotel and keep on being responsible for our planet while traveling. One of the TripAdvisor users precisely tells us how their experience was at the Riu Palace:
We had an awesome stay at this gorgeous property in Los Cabos. Since the moment we arrived to the second we left it was phenomenal service all around. Check-in, fast and efficient, welcomed with a glass of champagne, can't get better than that. The food and cocktails were top notch, delicious, fresh, and gourmet. You will not be disappointed. The service was great, staff made sure you were enjoying your holiday and went out of their way to show appreciation to visit their country and hotel. Thank you Riu for making our stay unforgettable!
July, 2022. Tripadvisor use: AR_yegbound. https://www.tripadvisor.com/ShowUserReviews-g152515-d503041-r860960635-Hotel_Riu_Palace_Cabo_San_Lucas-Cabo_San_Lucas_Los_Cabos_Baja_California.html
Remember that to get to this wonderful place you have a transfer service from the Los Cabos International Airport to the Riu Palace Cabo San Lucas Hotel that will make you feel welcome. VIP Transportation Los Cabos is a safe and fast service that will take you to the hotel so that you can start enjoying the wonderful views that Los Cabos San Lucas shows its visitors.
From the first moment, you will feel welcome at the Riu Palace Cabo San Lucas Hotel, with its all-inclusive 24-hour service and dedicated staff to provide quality and friendly service, they will give you a warm welcome with a refreshing drink and quick assistance without any delay in your check-in and you can immediately rest in the comfort of the room after your trip.
The Riu Palace Cabo San Lucas Hotel rooms offer comfort and luxury. Rest in the King size beds or on the sofa available in the room lounge and enjoy the spectacular views of the Sea Cortes with a cup of coffee that you can prepare yourself.
You can prepare a delicious coffee using the coffee maker in the room. The room also has a mini bar, refrigerator, air conditioning, ceiling fan, cable TV, free Wi-Fi, and an electronic safe box.
One of the important details is that some rooms are interconnected, making your stay with family or friends more enjoyable. The rooms have a private balcony overlooking the fabulous gardens of the Riu Palace Cabo San Lucas Hotel.
Some of the rooms have a Jacuzzi and an ocean view – a world to discover from the comfort of your room. In the Junior Suite Swim-Out, you will have a private pool on the room's terrace. Feel relaxed and enjoy the room service 24 hours a day and a refreshing drink on this private terrace with your friends or family.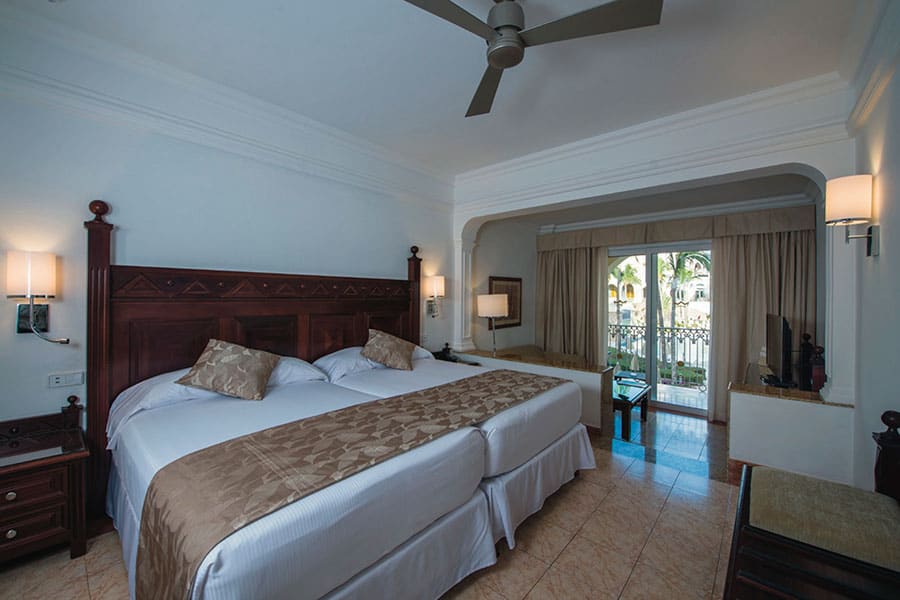 The culinary options of the Riu Palace Cabo San Lucas Hotel will surely delight even the most demanding palates
All meals at the Riu Palace Cabo San Lucas Hotel are part of the all-inclusive 24-hour room service. Enjoy the American and continental breakfast buffets, lunch with cold or hot buffets in different areas of the hotel, including the pool, and thematic dinners that will delight you with live preparations of delicious dishes.
At the Riu Palace Cabo San Lucas Hotel, you also have the choice of ordering your dishes a la carté in one of the fabulous restaurants, the Krystal restaurant offers fusion dishes for you to taste delicious preparations with a Mexican touch.
El Medano is that special restaurant where you can taste a succulent steak, the Bombay – is a restaurant where Indian food is the main attraction, the Miskaki presents the best options of Japanese food, and the San José restaurant where the Italian food with its starters and buffet lunch will surprise you.
Other great options for bars and restaurants are "Mar de Cortés", a beautiful restaurant with a terrace. If you crave a sweet treat, you are going to love "Capuchino" pâtisserie & ice cream parlor. And when you are ready to have a drink you'll have plenty of options to pick from: "La Ventana" which is an elegant lobby bar with a terrace, "Los Cabos" lounge bar, "Beach Club" Chill-out bar, and Lounge 24. You can also enjoy the poolside bars with swim-up bars "Baja Sur" and "Baja Norte"2.
One of the users of TripAdvisor tells us about their experience at the different restaurants at the Riu:
Amazing experience! We had the most amazing time on our family vacation in February at the Riu Palace. We have two kids under 12 and they loved all of the pool/food options. We had the most amazing time on our family vacation in February at the Riu Palace. The food was great – we enjoyed the steakhouse and the Italian a la cartes.
August, 2022. Tripadvisor User: Teeandco.
https://www.tripadvisor.com/ShowUserReviews-g152515-d503041-r855096192-Hotel_Riu_Palace_Cabo_San_Lucas-Cabo_San_Lucas_Los_Cabos_Baja_California.html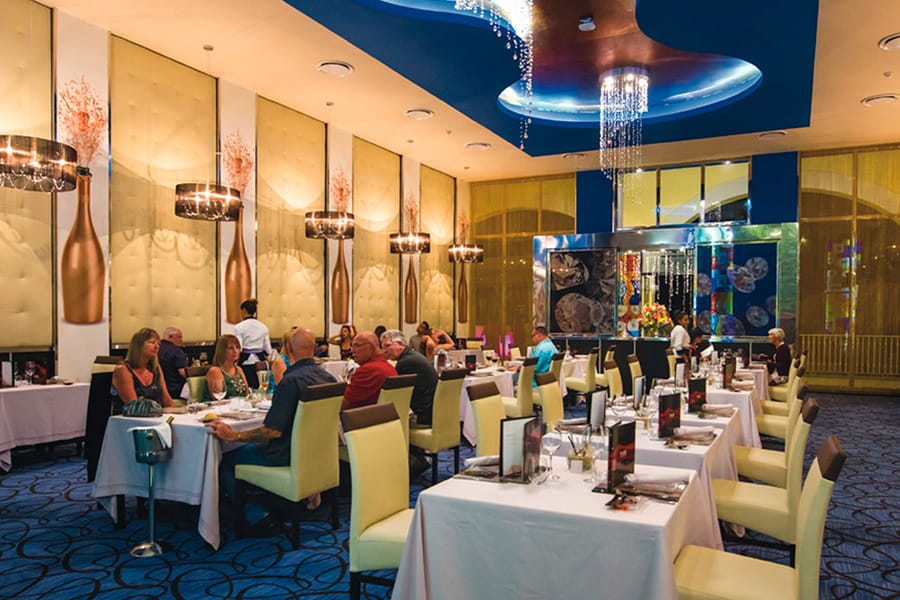 In the Renova Spa with gym included you can tone up your body and relax after your exercise routine…
You can relax your body and release stress with the specialized treatments offered by Renova Spa. In this place, there is a massage room, a beauty salon, a hot tub, a sauna, and a steam bath. You also have different types of massages such as Swedish massage, deep tissue, lymphatic drainage, and hydrotherapy massage.
Do not miss the opportunity to try body treatments such as mango and passion fruit wrap and mud body wrap. Glow up your beauty with treatments like Manicures and pedicures, Body waxing, Body exfoliation, and Makeup. Remember to book any service in advance.
And if you want to do your exercise routine, you can use any of the two Riu Palace Cabo San Lucas Hotel gyms. The good news is that you can use two completely free gyms with the option of joining the steam bath and whirlpool sessions at the Renova Spa. You can even participate in the RiuFit Program during your stay, which involves countless fitness activities to have fun.
If you are a golf enthusiast, the Riu Palace Cabo San Lucas Hotel offers you Cabo Real Country Club just 5 kilometers away from the hotel where you can have a great time golfing. Remember that you can use the VIP Transportation Los Cabos transportation service to move to this and other places of interest in Cabos San Lucas.
Near the Riu Palace Cabo San Lucas Hotel, there are iconic places like the Arco Los Cabos so you can enjoy a day of aquatic adventure with diving practices and witness the fabulous experience of whale watching during the winter. You can also visit the Marina and enjoy the arrival of the fishing boats and Los Cabos gastronomy.
The adventure will be your partner at the Riu Palace Cabo San Lucas Hotel, you can take a sailboat ride, join diving classes, snorkel, and other water sports on the beach.
And in the hotel facilities, you can practice on the volleyball court and on one of the tennis courts with your friends or family. Let the sport be your partner during your vacation.
If you travel with children there is no doubt that they will have fun. They will not want to leave the Riu Land Kids Club which offers a variety of activities ranging from board games to art classes. Let their imagination fly.
And if you want your children to have a day full of adventures submerged in the water, Splash Water World is the water park that will provide children with endless fun activities so that in addition to splashing water children can live entertaining moments in water slides. Nothing compares to the happiness children feel when they are near water and can use facilities designed for them to play safely.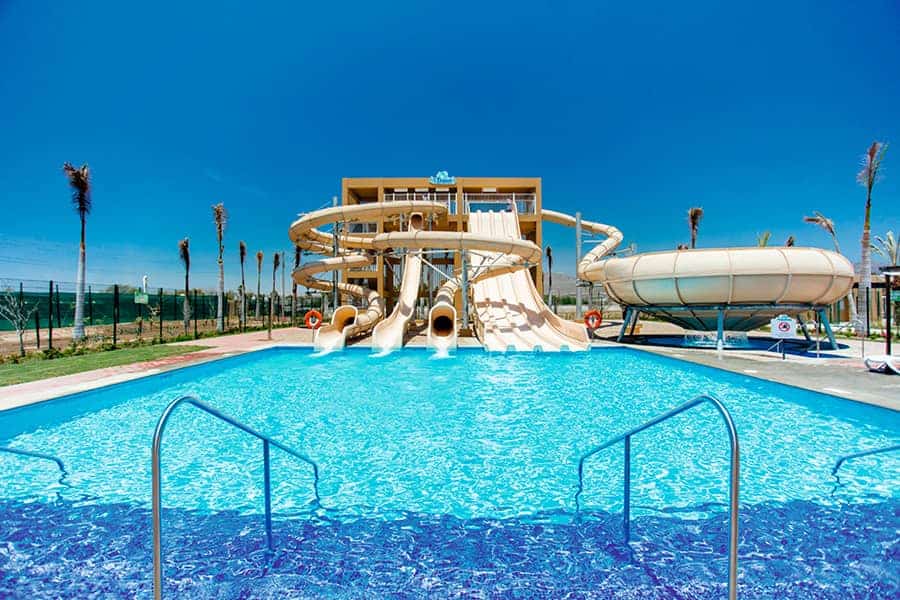 At the Riu Palace Cabo San Lucas Hotel you can also enjoy its two heated pools with attached whirlpool, two pools with pool bar, and two for children. In the pools, you will feel at ease since you can use the chairs, umbrellas, hotel courtesy towels, and armchairs, while you sunbathe in the solarium. You can even have one introductory scuba diving demo lesson in the pool if you'd like.
This TripAdvisor user certifies the outstanding pools and the spectacular ocean view, that's all you need for a great vacation don't you think?
Beautiful Hotel! It did not disappoint. The hotel is absolutely beautiful and the pools are stunning. If possible get a room facing the ocean – you won't regret it.
June, 2022. TripAdvisor User: Wynnipoo
https://www.tripadvisor.com/ShowUserReviews-g152515-d503041-r792700090-Hotel_Riu_Palace_Cabo_San_Lucas-Cabo_San_Lucas_Los_Cabos_Baja_California.html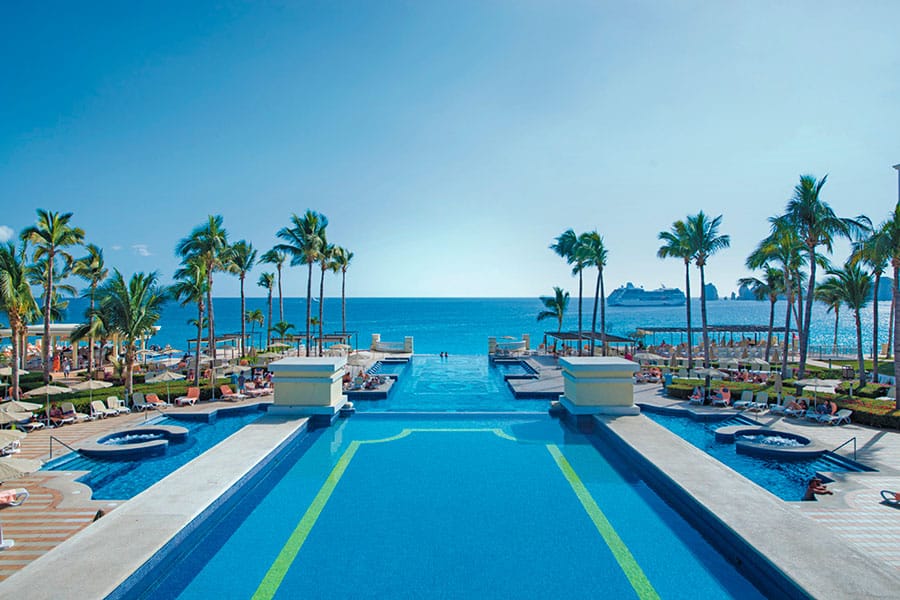 And if you are one of those people who like to continue enjoying the fun at night, the Riu Palace Cabo San Lucas Hotel is a special place to spend fun moments with your friends in the "Pacha" disco and a special drink in the Riu Santa Fe. You cannot miss the theme parties in the adjoining pool several times a week. Have fun-filled days and nights and your vacations will be unforgettable.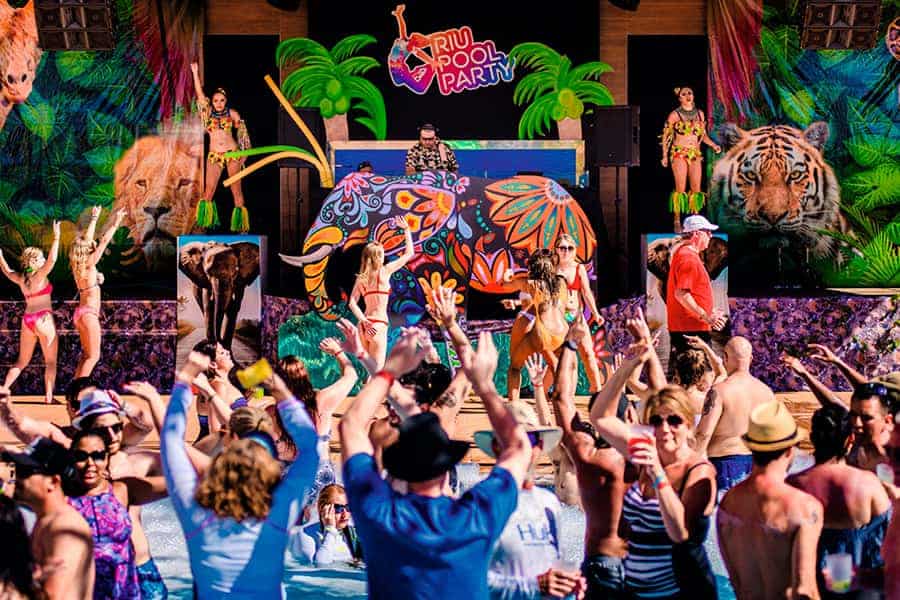 Do you want to celebrate your wedding or another event at the Riu Palace Cabo San Lucas Hotel?
Great! At the Riu Palace Cabo San Lucas Hotel you can celebrate your wedding or event and enjoy not only spectacular scenery but also luxury facilities and services for its guests. Organize your event and let your guests enjoy the Riu Palace Cabo San Lucas Hotel with you.
There are important details that you should keep in mind if you select the Riu Palace Cabo San Lucas Hotel as the place to spend your vacations. In this hotel pets are not allowed, you do not have the possibility of requesting an additional bed, the babysitting service has an additional cost, people with disabilities have special access or can use the elevator and you can also enjoy the Concierge service.
And the taxes and tips part of the all-inclusive service at the Riu Palace Cabo San Lucas Hotel?
Taxes and tips are already included in the payment.
And how far is the Los Cabos International Airport from the Riu Palace Cabo San Lucas Hotel?
The Riu Palace Cabo San Lucas Hotel is 40 minutes away from Los Cabos International Airport.
To say goodbye to the Riu Palace Cabo San Lucas Hotel, without stress and with great memories of the fun and adventurous moments you lived in this hotel, you need a transport service that takes you to Los Cabos International Airport which offers quality service and a safe journey back. Booking with VIP Transportation Los Cabos is an option that you cannot miss:
www.viptransportationloscabos.com
Enjoying a vacation full of adventure and fun and getting rid of stress is something you can do when you connect with nature and when you stay in a place like the Riu Palace Cabo San Lucas Hotel. The stress is left behind when the natural beauty of Cabos San Lucas is the star of your vacation.
Hotel Website:
https://www.riu.com/en/hotel/mexico/los-cabos/hotel-riu-palace-cabo-san-lucas/
Phone number:(+52) 62 41 46 71 60/Reservations: 0 800 100 4916
Photo source:
https://www.riu.com/en/hotel/mexico/los-cabos/hotel-riu-palace-cabo-san-lucas/